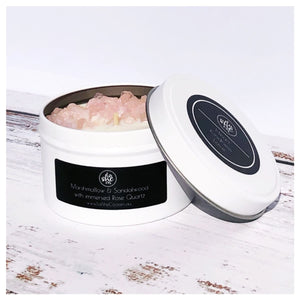 Marshmallow Sandalwood with Rose Quartz Candle
With a luxurious sweet treat of marshmallows, rosewater with a sugar syrup, geranium, lily of the valley, and clove bud. Ending with base notes of vanilla, patchouli, sandalwood, and musk, immersed with Rose quartz.
Promoting peace, kindness, and compassion. Create a loving and free energy.
Size 200g (35hrs burn time approx)